The MSRC is one of the few centres in North America that offers four interactive bridges for ship-ship or tug-assisted manoeuvring exercises.
> Main simulator
> Tug
> Bridges
> Classrooms
> Debriefing room
> Research & development
Technical Overhaul and Maintenance of Simulators
The MSRC has concluded the most comprehensive agreement available for simulator system maintenance and software updates (Premium Customized Care of the Long Term System Support Program – LTSSP) with Kongsberg. Each year, the MSRC schedules a two-week technical shutdown to perform this maintenance and update.
The some sixty computers are replaced on a three-year cycle and, in addition to these technical maintenance activities, the MSRC invests in the purchase of new components or the replacement of existing components on an annual basis.
Take a virtual tour of our simulators by clicking on a classroom.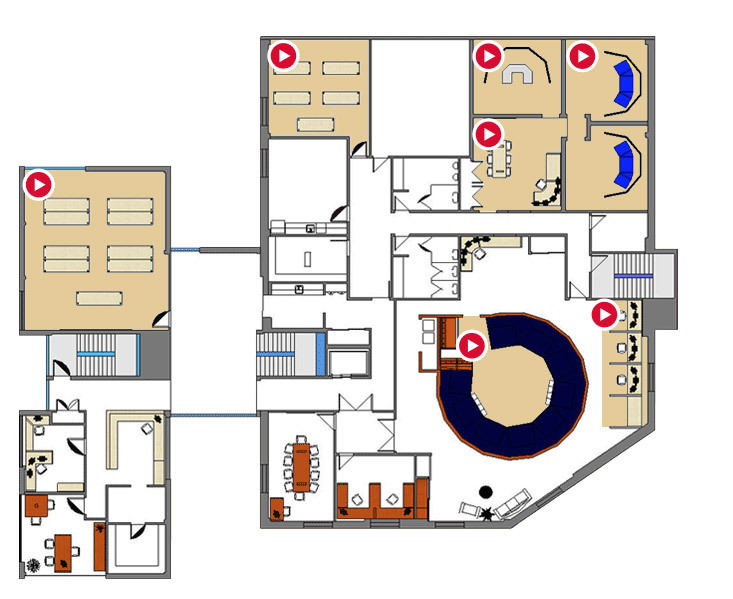 The Kongsberg multidisciplinary navigation simulator, one of the world's most sophisticated simulators of its kind, is designed for:
Training
Practice
Skills development
It allows for very realistic simulations to be carried out, while taking into account elements that are equally relevant, such as:
Safety of navigation
Pilotage
Ship instrumentation
Ship handling in confined waters
Emergency situations
« Class A » (NAV) Certification
The Full Mission simulator can simulate a complete shipboard bridge operation situation, including the capability for advanced manoeuvring in confined waters.
Specifications
Very realistic visual presentation with 330º in the horizontal plane and 25º in the vertical.
State-of-the-art bridge in terms of equipment and navigational instruments:
• ARPA Radars;
• ECDIS;
• AIS target visualization.
Conventional propulsion or Azimuthing Podded Propulsion.
Wide selection of carrier ships with six degrees of freedom.
Recording of sessions for analysis and feedback.
This simulation bridge was specially designed to reproduce the physical environment of a tug. Its set-up, navigational instruments, vertical and horizontal field of view and cable controls are identical to the ones found on the bridge. It is used to perform escort and harbour tug exercises.
Specifications
Features visual presentation with 200º in the horizontal plane and 40º in the vertical;
Can simulate conventional or Azimuthing Podded Propulsion vessels;
Models are directly affected by the movement and speed of the vessel being towed.
These two bridges are fully instrumented. They are used for individual training or for interaction with the other bridges and can be configured to simulate conventionally-propelled vessels or vessels with Azimuthing Podded Propulsion.
Specifications
Feature visual presentation with 200º in the horizontal plane and 25º in the vertical.
Equipped with Pilot Plugs for use with customized PPUs (Portable Pilot Units).
Offer visualization of AIS targets.
The MSRC understands the importance of creating an environment conducive to learning. The MSRC has specially adapted and equipped classrooms available to meet the specific needs of the centre's activities.
The MSRC has two debriefing rooms available. Both are equipped with video systems to review simulations for discussion and training purposes.
In order to allow several apprentices or advanced pilots to interact at the same time in the same sector, or to work individually on specific training sessions, the MSRC has three interactive table stations.
For more information on
Interactive bridges